In this article, I will be showing you how to make a sturdy portable band saw stand for a harbor freight portable band saw, for just a few dollars, out of a 2 by 6, a couple of 2 by 4's, and some bolts. All of the key information is laid out in written form below, but I will also have a video at the bottom of the page where you can see the building process for yourself. Hope you enjoy!
Tools And Materials
2, 4′ long 2 by 4 boards
1, 4′ long 2 by 6 board
15, 2.5″ Screws
2, 3/8 inch bolts
Hand saw/miter saw/circular saw
Hand drill
Belt sander
Impact driver (optional)
Cutting The Boards
Alright, to begin we are going to cut our boards down to 4 feet in length. We can do this with a hand saw, a circular saw or a miter saw as shown here. You need two, four foot 2 by 4 boards, and one, four foot 2 by 6 board.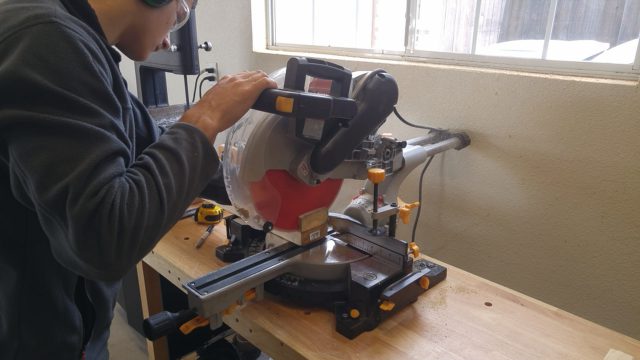 Screwing The Boards Together
Next, we are going to lay the pieces out as shown, countersink some holes with a hand drill, and then screw the boards together using a hand drill or an impact driver. Two and a half inch screws work well for this, but longer ones should work fine as well.
Drilling Holes For The Bolts
After that, we are going to take a 3/8 inch spade bit, and drill some angled holes into the top, inside edge of both 2 by 4 boards as shown. Then we are going to slide in our 3/8 inch bolts. This is what the saw will be hanging from. We want both of these holes to be the same depth so the bolts will stick out evenly, and we want them to stick out enough that the handle of the saw can rest on them easily.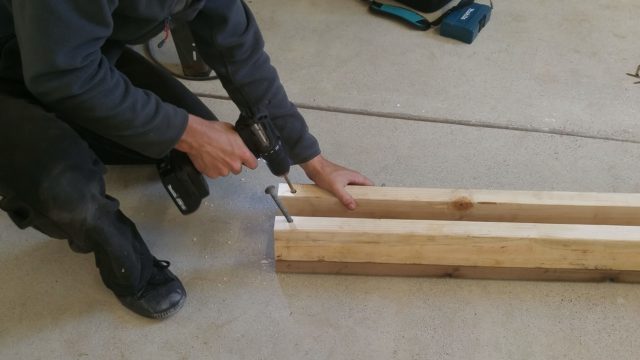 Attaching The Stand To A Workbench
At this point, we are ready to attach the stand to a sturdy surface. This can be a wall or a workbench. In this case, I chose to attach it to my workbench. To do this, we can use the same two and a half inch screws from before.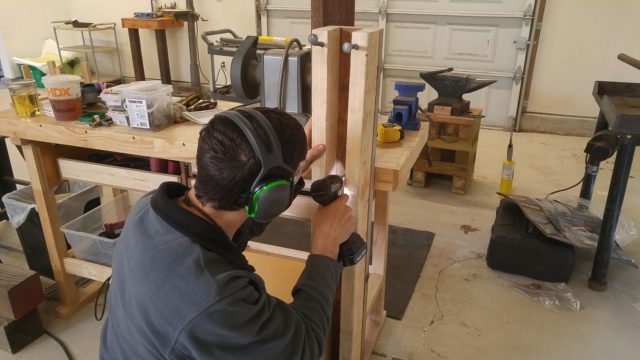 Widening The Slot
And finally, we are going to sand the inside edge of both 2 by 4 boards to widen the gap and allow the saw to fit tightly into the slot we created. To do this, a belt sander works great. The best way to do it is to simply start sanding and check it (by mounting the saw in place) periodically to see where you need to remove more material. I did it this way, and while it was time consuming, it produced a great fit.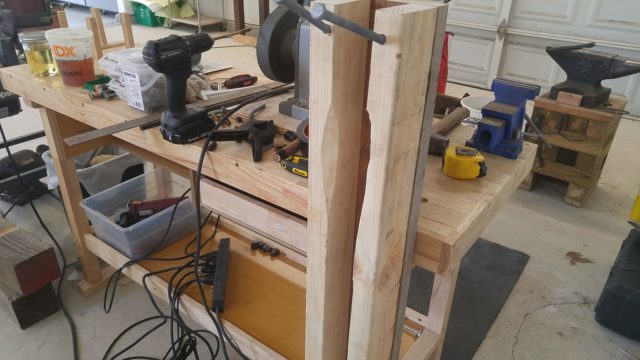 Finished Stand
And with that, we have a finished stand! If you did everything right, it should lock in quite tightly and have very little movement or play.
Final Tips
Try adding some zip ties, or hose clamps around the top and bottom part of the handle, going around the back of the stand to make it even more stable.
Make a table for it! This can be out of wood or metal and is really simple to do. This is pretty much a must as the tiny metal table that comes with the saw is not very adequate for using it vertically. I will be doing an article and video on this shortly.
Triggering the saw is a little difficult, but I have found a large spring clamp works adequately as seen in the middle picture above. I am sure there are better trigger mechanisms out there, but it's mostly worked fine for me, so I haven't bothered looking for anything else.
Making A Harbor Freight Portable Band Saw Stand Build Video
Final Thoughts
Well, that is all I have for you today, I really hope you enjoyed! If you did, please subscribe to my newsletter below to get updates when new articles are posted.
Very soon I will be showing you guys how to make a solid steel table for this saw, as well as giving you a quick review of this saw after 1 year of use. So stay tuned for that!
Thanks for reading, have a great day, and God bless!
Joshua Waters
SharpshooterJD.com
.
Subscribe For Updates On Future Content!